It's wonderful to be here, it's certainly a thrill
You're such a lovely audience we'd like to take you home with us
We'd love to take you home.
Happy Valentine's Day from the science lab kitchen here at In A Gadda Da Vegan. Continuing a tradition I started last year, when I made a case for Valentine's Day with alcohol, I bring you: Chocolate Rum Pudding Cake. Even if you don't drink, you know, rum is fermented sugar, so what could be better in a cake?
And I'm going to tell you, friends — sometimes alcohol really is the answer. For example, on a chemistry test, if the question is, "What do you get when you combine CH3CH2OH or C2H5OH?" But never mind the ethanol, it bakes out of this cake before you eat it.
What you do with the remainder of the bottle is up to you.
After baking, the top of this cake looks like a regular chocolate cake. But underneath is a molten sea of warm, gooey, rum-flavored chocolatey sweetness. Like my love for all of you.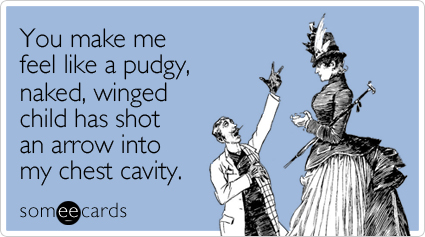 This recipe comes from Vegan with a Vengeance, by Isa Chandra Moskowitz. You can also find it on Chow.com.
1 cup all-purpose flour
2 teaspoons baking powder
1/2 teaspoon baking soda
1/4 teaspoon salt
1 cup sugar, divided
1/2 cup Dutch processed cocoa powder, divided
1/2 cup plain soy milk
1/4 cup canola oil
1 teaspoon vanilla extract
1 teaspoon rum extract (or just use 1 more teaspoon vanilla if you don't have rum). I used a teaspoon of… rum.
1/2 cup boiling water
1/2 cup pure maple syrup
1/4 cup light rum. (I doubled this, for extra rummy goodness. Like my love for all of you).
INSTRUCTIONS
Boil some water in a teakettle, preheat oven to 350°F, and grease a 9-inch springform round cake pan.
Sift together flour, baking powder, baking soda, salt, 3/4 cup of the sugar, and 1/4 cup of the cocoa. Add the soy milk, oil, and extracts, and mix into a thick batter.
Spread batter into cake pan. Sprinkle the top with the remaining cocoa and sugar.
Pour the boiling water into a glass measuring cup, add the maple syrup and rum to the water, and pour this mixture on top of the cake batter.
Place cake on a cookie sheet in case of pudding overflow and bake for 30 to 35 minutes. Let cool just a bit; while the cake is still warm, place it on a large plate (your plate should have a slight edge to prevent spillage).